Dissolved Oxygen (DO) is a measure of water quality and is affected by ingress of pollution. The parameter is extensively used to environmentally monitor lakes and rivers for ingress of partially or untreated sewage. Pollution reduces the dissolved oxygen concentration and the ability to support aquatic life. DO is also an important process control parameter used for controlling aerobic digestion and the biological treatment of waste-water. The aeration process can be controlled by on-line DO meter to maintain effective nitrification treatment. Field portable meters enable rapid spot sample measurement for environmental monitoring applications or where on-line instruments are not installed.
The WTW IQ Sensor Net system allows multiple sensor inputs including the FDO700 IQ using optical (fluorescence) measurement technology. The Chemitec 50 series is also a multiple sensor input platform and the S432 OPT digital sensor uses optical (luminescence) measurement technology, to report dissolved oxygen concentrations. The integration of automatic compressed air cleaning can be beneficial especially where there are high concentrations of bio-solids.
Electro-chemical sensor technology is also available. Whilst these galvanic techniques have traditionally been used throughout the process control and environmental industry, the latest fluorescence / luminescence technology now predominates. However, electrochemical devices are still widely installed for trace level measurements in the PPB range. Industry needing to control condensate return and protect boilers from corrosion can benefit from the integration of dissolved oxygen measurement, over the range 0-2,000PPB.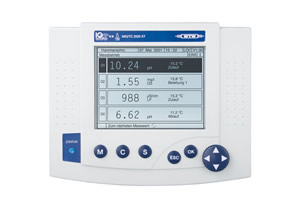 MIQ-TC2020 multi-parameter controller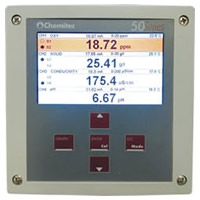 Chemitec 50 Series multi-parameter controller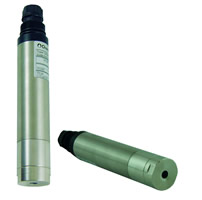 Chemitec S432 OPT DO sensor