The Protoc TOC analyser has been installed throughout industry for environmental, process and compliance monitoring applications. Typical installations include:
Surface Water Glycol detection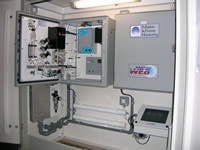 Eon Energy at their gas storage facility located in Cheshire, selected Protoc TOC technology to continuously monitor and control site discharge to the local watercourse, once the surface water has passed through a three stage interceptor. Many international airports which use Glycol (as a de-icing agent) also have the Protoc TOC technology to control release of surface water.
Chemical manufacture
The Protoc TOC technology is used at Deb Chemicals who manufacture domestic and industrial cleaning products. The Total Organic Carbon analyser monitors the site drainage system at the final outfall chamber for dissolved organic chemicals that may have entered the site drainage system. The instrument is connected to a penstock valve to automatically isolate discharge should contamination occur.
Petrochemical waste water monitoring
The Protoc 300 TOC analysers have been installed in India for the Hindustan Dorr-Oliver project and the Bhatinda Refinery to monitor waste-water refinery discharge for the dissolved organic carbon.
Agrichemical discharge analysis
The Deepack Fertiliser Company located in Mumbai, India uses the Protoc TOC technology to monitor site discharge and prevent accidental agricultural nutrients, methanol and IPA release. Growhow in Cheshire also have Protoc TOC analysers installed to continuously monitor total organic carbon and re-circulate process liquor after an oil water separator.
Brewery discharge compliance monitoring
The Heineken Brewery in Manchester uses the Protoc 300 TOC analyser with membrane sample preparation to continuously monitor site effluent for total organic carbon which can also be correlated to COD. Many soft drinks manufacturers also use the Protoc TOC analyser to continuously monitor trade discharge to demonstrate compliance to imposed consents.
Municipal waste water applications
United Utilities at Leigh WwTW is an example where the Protoc TOC analyser technology has been installed to continuously monitor final effluent quality. Installations have also been made to measure the inlet to the works to report the organic loading to improve coagulation control and reduce chemical use.
Rapid deployment in towable trailers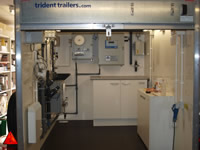 United Utilities have purchased a number of towable trailers incorporating the Protoc Total Organic Carbon analyers to allow continuous measurements of municipal waste-water treatment facilities. The systems can be deployed on crude and treated sewage; to optimise processes, identify traders affecting quality and to assist during plant commissioning.
Demin water (USP Pharmacopoeia) regulations
Our latest Protoc trace level analyser ranged 0-750 PPB TOC has been installed to monitor the ultra-pure water ring main for DDD Fleet laboratory who must comply with the USP Pharmacopoeia regulation, defining water quality.
Boiler condensate applications
The Protoc TOC analyser provides continuous measurement of cooling water and condensate return at the PK Orlen refinery located at Plock in central Poland. The Total Organic Carbon configuration includes a method referred to as "TOC by difference" which ensures inclusion of volatile components. The Teeside Power Station in the UK also uses the Protoc TOC analyser for condensate measurement.