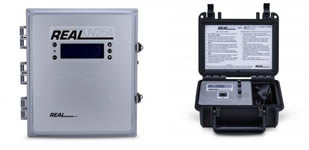 Realtech, Canada – manufacture on-line and field portable instrumentation. PPM distributes the on-line and field portable UVT monitors which have been installed to monitor and control UV disinfection processes.

Realtech flow through UV254nm aborbsion & transmissivity monitors
All of Real Tech's UV254 testing products benefit from innovative patented or patent pending core technologies that solve the many challenges faced by other similar instrumentation.

Realtech M4000 UV254nm high sensitivity aborbsion & transmissivity monitor
The Real UV254 Security monitor provides continuous real time analysis to ensure the security and safety of a water supply 24/7.

Realtech P200 portable UVT instrument for spot sample measurement
The UV254 Portable meters from Real Tech lead the way in portable organics testing.