January 2019
January is typically a busy month and this year it has been as busy as ever. We received a number of domestic purchase orders for our Proam ammonia monitor. Severn Trent Water will use the Proam analyser to monitor final effluent quality. Wessex Water have procured the Proam technology including pre-installation into weather proof GRP kiosks, to profile a waste water treatment facility. Analyser kiosk builds also included a Protoc TOC monitoring system purchased for a new terminal facility at Manchester International Airport.
e also built, delivered and commissioned a new Protoc TOC surface water monitoring kiosk, for a large UK gas storage facility. Overseas, we received a purchase order for eight Protoc TOC instruments for India.
Wessex Water place order for three Proam ammonia analyser kiosks
Wessex Water have placed a significant purchase order with PPM to pre-engineer three water quality monitoring analyser kiosks, for the site at Charlton Horethorne WRC. The walkin analyser kiosks will be positioned at three separate locations across the works; at the inlet, at a siphon chamber and at the final effluent locations. The continuous measurement across the site will allows scientists to better understand the treatment process to optimise final effluent quality. Each analyser kiosk will be equipped with lighting, frost protection heating during winter and forced ventilation during summer. The instrumentation and membrane filtration will be pre-installed along with the associated sample pipework, to simplify the site installation.
Protoc TOC analyser kiosk for Manchester International Airport new terminal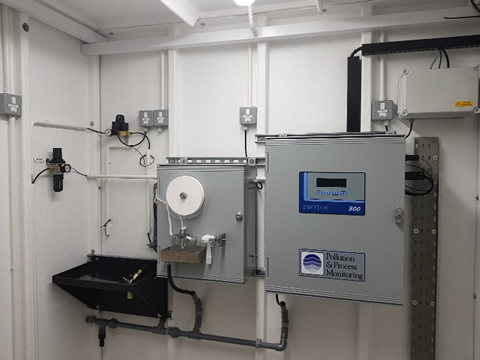 Manchester International Airport is currently under taking a £1bn transformation programme, to expand their facilities and provide passengers with the best possible experience. The expansion includes an environmental investment in an additional water quality monitoring system engineered by PPM.
The surface water quality monitoring kiosk has been purchased for the new Terminal Two facility and will be located airside, to monitor surface water runoff at a divert chamber. A similar configuration, to all the other proven installations, comprising our Paper Band sample preparation and a submersible sample pump, will be used to present sample for continuous analysis by the Protoc TOC analyser technology.
Protoc TOC monitoring kiosk commissioned at a UK gas storage plant
A large gas storage facility based in the east of the UK, has purchased a new Protoc TOC analyser kiosk from PPM to monitor surface water quality. The Protoc Spyder and Web system will provide continuous water quality measurement on two surface water streams before they converge at a common discharge to river. The Spyder and Web analyser system will automatically alternative between the two sample streams to ensure water quality is not affected by hydrocarbon ingress. Results are constantly output and locally displayed on the touch screen, providing graphical trending and interaction with the analyser section.
Nine Protoc TOC instruments purchased for Gujrat Refinery project in India
A build of nine Protoc 300 TOC instruments is underway this month and will be destined for the Gujrat Refinery in the west of India. The Gujrat Refinery, owned by the Indian Oil Corporation is their second largest. Our distributer Forbes Marshall, is working closely with a local engineering company who are managing the expansion project. The instruments are ranged 0-10ppm TOC and will be continuously monitoring condensate return for organic ingress. The instruments benefit from an automatic cleaning option which once a day injects a wash solution into the analyser preventing a build-up of contamination that may otherwise affect the performance of the instrumentation.