September 2019 News
September continues to be very busy in the UK. Purchase orders include ammonia measurement within Anglian Water, Wessex Water and United Utilities. Various sewage inlet applications were fulfilled with measurements of redox to infer septicity; conductivity for saline intrusion; pH for variations from non-compliant traders in addition to dissolved oxygen for aeration control and turbidity measurement for final effluent applications. We also supplied a bespoke measurement system to a large food production plant preparing frozen products, to measure suspended solids on a trade discharge which will replace a rival system which has proved unreliable. System builds include a surface water monitoring analyser kiosk for Manchester Airport Group. We have also been busy with an ISO 9001:2015 quality standard audit which is required on a regular basis to ensure that we apply rigorous manufacturing standards to ensure a consistently high quality of manufactured product.
Manchester Airport Group (MAG) places further order for Protoc TOC analyser kiosk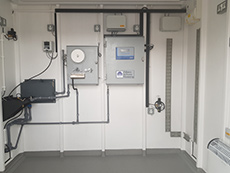 Manchester Airport Group (MAG) has placed a number of significant purchase orders for the supply of water quality instrumentation over the last few years. The most recent, is a bespoke analyser kiosk to provide continuous surface water quality measurement at the new Terminal Two Apron. We have pre-installed our Protoc 300 TOC analyser with Paper Band filtration into a large walk-in analyser kiosk measuring 4.0m x 2.5m. The sample acquisition pump complete with automatic compressed air cleaning, lighting and frost protection has been pre-installed by PPM prior to delivery to site.
The kiosk also has an internal partition so additional flow metring and control panels may be installed on site by others. The total number of Protoc TOC analysers currently installed at strategic locations across the Airport is eight and this latest addition will make nine.
Trade compliance measurement at Suffolk food processing plant
A new digital water quality measurement platform has been supplied to a leading frozen food producer located in Suffolk for trade compliance measurement. Initially, a single sensor for continuous turbidity measurement to infer suspended solids has been procured and installed for off-line measurement within a sample break tank, taking a bypass feed of the trade discharge. In-situ measurement was not possible because of the amount of entrained air which causes measurement interference. The instrument and the sample break tank (with sample degassing facility) have spare capacity to integrate additional probes measurements, such as pH should they be needed at a later date, when the existing instrumentation may need replacement.
ISO9001:2015 annual audit successfully completed
We are pleased to report that our annual quality audit has been completed with good feedback from the inspector. The audit summary concludes that the audit objectives were met in accordance with the audit plan. There were no deviations from the audit plan. The management system was evaluated with respect that it is continually meeting its specified objectives. The overall quality system Pollution & Process Monitoring Ltd found to be well documented and well implemented with respect to ISO 9001:2015 and good amount of compliance was observed.