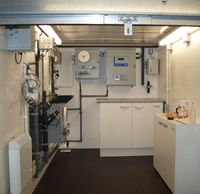 Sometimes an "off the shelf" water quality monitoring product is just not available and it is necessary to engineer a complete bespoke monitoring solution. System integration demands a diverse range of abilities. PPM is experienced in designing the correct suite of instrumentation combining manufactured, distributed and factored products.
The Engineered Approach
It is sometimes necessary to enhance instrument performance accomplished through the style of installation, by integrating automatic cleaning systems and engineering duty and standby pumping. The additional benefit of pre-installation is that the complete water quality monitoring system can be performance validated before delivery, minimising the time on site and reducing installation costs.
Analyser Kiosks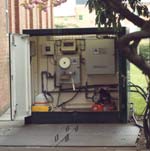 Robust GRP analyser kiosks can be engineered and sized for the application with optional internal partitions giving wet and dry sides. Analyser kiosks are often the most economical solution where an existing building is not available or incorrectly positioned.
Designed & engineered for the application
Integration of sample acquisition & filtration
Additional security & weather protection
Frost protection & strip lighting
Sample & power distribution to instrumentation
Instrument Panels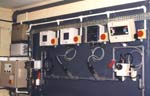 PVC wallboards with optional drip trays are widely used for flow-through measurement and often provide an economical installation solution minimising the time, needed on site to complete an installation.
Pre-mounted instrumentation
Sample & power distribution
Common signals junction box
Automatic air and chemical cleaning systems
Duplex- duty & standby sample pumping
Analyser, flow cell & probe technologies
Flow through & common break-tank designs
Specialist Installations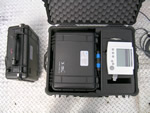 In some instances tidal water movements, intermittent sample, security, the need for a temporary installation and other site-specific factors need to be considered in the design of a suitable water quality monitoring system. PPM has a wealth of experience with regards assembling the correct system including towable analyser trailers and battery powered systems, using process measurement technology.
More information? Get in touch!
If you would like more information relating to this product or the services Pollution PPM can provide, please Contact Us.
For International enquiries, please contact one of our dealers listed on the following page - International Dealers