Waste to Energy facilities need to monitor surface water quality
Pollution & Process Monitoring (PPM) Ltd has supplied two water quality monitoring stations to a new "Waste to Energy" facility, located in the NE of England.
The large industrial complex accommodates more than ten separate manufacturing companies, supplying a diverse range of speciality chemicals and industrial products. All these companies discharge surface water and process waste streams, to a common site drainage system requiring them to individually monitor their own discharges.
Consequently, for the new "Waste to Energy" facility, PPM was tasked by the main contractor to fabricate, two dedicated aqueous monitoring stations; one for the Incinerator Plant and another for a separate Ash Plant.
Bespoke water monitoring stations fabricated by Pollution & Process Monitoring Ltd
The monitoring station at the Incinerator plant was supplied in 2016 and comprised a small GRP kiosk which included analyser pre-installation, lighting, frost protection, electrical and sample distribution. The pre-installation simplified the site installation and the time required to commission the monitoring system. The analysers comprised the Protoc 300 TOC with Paper Band Filtration system, recommended after reliable use throughout the industrial complex for many years. Additionally, pH and temperature were also integrated for continuous measurement and control.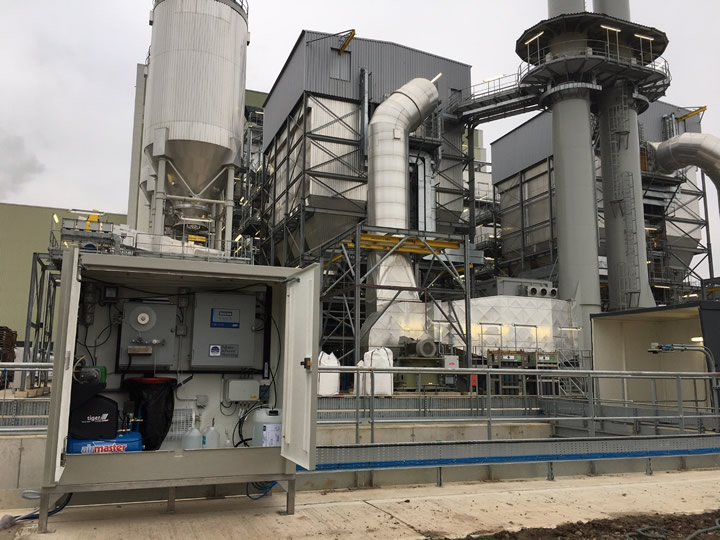 Image: Protoc 300 TOC analyser with Paper Band Filtration & pH/Temperature meter installed into small GRP enclosure with sample acquisition.
Subsequently in 2017, a large walk-in analyser kiosk was then engineered by PPM to continuously monitor surface water run-off, from the Ash Plant. A larger kiosk was required at this location, to house the Protoc TOC analyser with sample preparation system, the pH/temperature meter, in addition to a Proam ammonia monitor.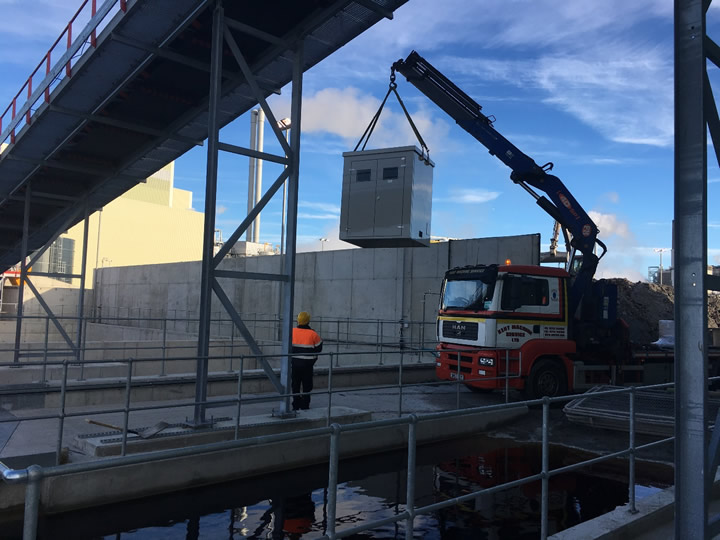 Image: Delivery of Ash Plant Analyser Kiosk, engineered by PPM.
Continuous monitoring can alarm non-compliance in real-time
The benefit of continuous water quality measurement is the ability to identify non-compliance and control in real time. Discrete sampling and off-site analysis can only provide historical data and does not facilitate proactive environmental management.
Concentration data is displayed, locally at the analyser location and output to telemetry, allowing real time data capture and control of surface water / effluent streams.
Connection to a GSM communication system can also be integrated, to SMS message individual mobile phones to indicate non-compliance and allow remote data access, where existing telemetry is not in place.
A relatively small investment in environmental monitoring, can positively impact on managing waste streams and provide a higher confidence in operational safety.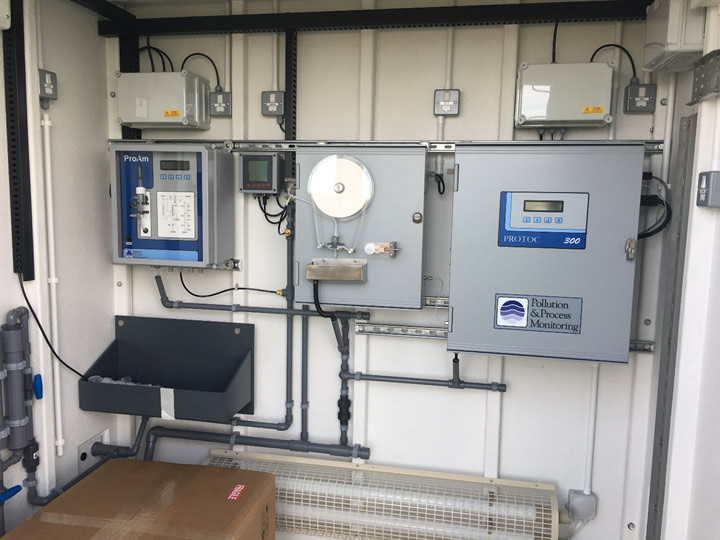 Image: Protoc TOC analyser with Paper Band Filtration, Proam ammonia and pH / Temperature meter pre-installed into walk-in GRP Kiosk, engineered and pre-tested by PPM to minimise installation and commissioning time.
Service support from PPM maintains reliable analyser operation
To mitigate additional work load, PPM can also provide service support agreements to maintain analyser installations and ensure reliable operation, without significant operator intervention.
The Protoc TOC and Proam ammonia analysers are used extensively throughout industry for a diverse range of process, effluent and surface water monitoring applications. The Company is well established in the environmental monitoring sector as a UK manufacturer and distributor with specialist knowledge of providing bespoke monitoring systems, to accommodate specific site requirements.
More information? Get in touch!
If you would like more information relating to this product or the services Pollution PPM can provide, please Contact Us.
For International enquiries, please contact one of our dealers listed on the following page - International Dealers