Sutton and East Surrey Water plc approached PPM during the summer 2003 to supply a suitable monitoring system to report turbidity at the Kenley WTW.
The Kenley works produces up to 45 Ml/day, serving a population of 75,000 and is situated to the south-east of Croydon located in Surrey. The Works abstracts water from the underlying chalk aquifer and whilst the quality of the supply is very good, it has temporary hardness.
If left unchecked, the temporary hardness can cause scaling of pipes and appliances so the Kenley Works includes water treatment processes to remove the dissolved salts.
To remove the temporary hardness, the abstracted water's pH is increased in a special reaction vessel that is "seeded" with a special fine particulate known as "silver sand particles". These particles form a nucleus for the precipitation of the calcium carbonate producing small pellet sized tablets which are then re-utilised for various manufacturing applications.
The treatment process is monitored for pH and for turbidity. It is important to measure the turbidity after this process to make sure that the water into supply is not adversely affected in terms of its physical appearance. However since the turbidity measurement uses an optical methodology, it is imperative that chemical precipitation is not allowed to obscure the optics.
Instrumentation previously used for this application was continually affected by chemical precipitation and needed constant attention. Internal components needed to be physically and chemically cleaned using de-scaling agents typically on a daily interval, to maintain them in an operational state.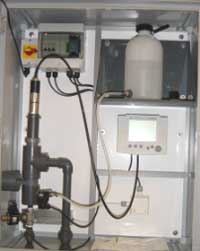 PPM conducted a trial installation using the IQ Sensor Net System, fitted with the Visoturb sensor which reports turbidity. The sensor comprises a stainless-steel probe of 40mm diameter that uses the recognised nephlometric light scatter measurement principle. It is fitted with sapphire optical windows that are maintained by ultra-sonic cleaning, used to reject chemical precipitation. This style of cleaning certainly seemed to help but the client ultimately wanted a system which could be left unattended for weeks not days. An enhanced design was therefore considered. PPM proposed an engineered solution to the problem which had worked effectively in similar circumstances.
The proposed design comprised a small GRP cabinet containing all the instrumentation, with the turbidity sensor mounted into a PVC flow cell that was automatically chemically cleaned using a de-scaling agent. The instrument would initiate an automatic chemical cleaning cycle by freezing signals and introducing the cleaning solution at a user selectable interval which could be adjusted for site conditions. The flow-cell, Visoturb sensor and supply pipework could then be automatically chemically cleaned dissolving the lime-scale.
The system was installed in December 2003 and Steven Burgess based at Kenley WTW who has supervised the installation, has reported reliable operation and reproducible measurement since this time. In fact the Company is so impressed with the performance that it has now been decided to adopt the design for all the remaining locations. A total of eight systems have now been ordered and will be supplied to replace the remaining instrumentation at Kenley WTW and at a Leatherhead site which has also witnessed similar difficulties maintaining turbidity instrumentation on-line.
It is anticipated that the eight systems will be installed and commissioned towards the end of March 2005 reducing the maintenance burden on the site operational staff and providing reliable turbidity results.
We should like to thank Bernie Luis (ICA Manager) and Steven Burgess (Systems Technician) who have overseen this project and contributed to this application editorial.
For further information on how PPM can support your instrumentation requirement please contact:
Steven Tuck
Pollution & Process Monitoring Ltd
Tel: 01732 882044
Fax: 01732 780190
Email: s.tuck@pollution-ppm.co.uk